Explore Water Activities in & around Izu
Water sports are a big part of the attraction of Izu as the Peninsula is blessed with some of the best scuba diving in Japan, popular surf beaches, and amazing coastline.
The volcanic history and geography of the peninsula, the nearby Kuroshio current, which attracts a wide variety of fish species to the area, and the relatively secluded Suruga Bay on the West Coast all combine to make Izu a dream destination.
Popular Water Activities in Izu
Izu offers a great Scuba Diving experience within 2 hours of Tokyo where you can see coral reefs, shipwrecks and swim alongside dolphins and hammerhead sharks.
The southern beaches of Izu are known for quality white sand, safe swimming options, and good waves for surfers when the conditions are right. 
Other fun and accessible activities include sea kayaking, SUP, snorkeling, and excellent fishing – including some big game options.
Shimoda is a historic and picturesque port town with some of the best beaches in Japan.
Ito City is a popular destination with an array of activities and attractions for all ages.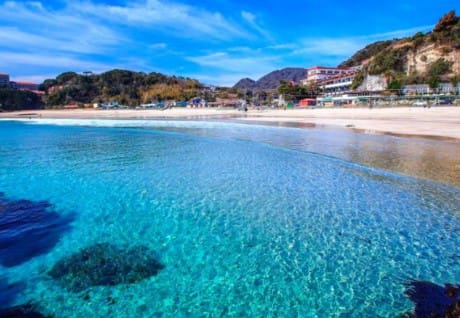 Izu boasts some of the best white sand and surf beaches in Japan.
The Izu coastline is steep rugged, and breathtaking on both coasts.
Fishing
Fishing is a popular pastime throughout Izu and it is possible to fish off many of the rocks around the Peninsula.
Some of the best fishing spots are not accessible by walking so many visitors to Izu will hire local fishermen to drop them off at their favorite spot and then pick them up again at a designated time.
Charter fishing boats are available at different spots around Izu with many charters out of Shimoda - there are even game fishing boats available
In Matsuzaki, you can try your hand and foot-powered kayak fishing with local tour operators and, depending on weather conditions, not only enjoy fishing but also get amazing views of Mt Fuji from sea-level.
All the fish caught can be taken to a local restaurant that will serve it to your liking paired with locally sourced fresh wasabi and sake or craft beer.
Surfing
When conditions are right (often during typhoon season) Izu is known to get some of the best surf in Japan.
Many avid surfers will travel down from Tokyo every weekend to catch some waves
As a result, some of the waves can get pretty crowded on the weekend but during the weekdays you will often find yourself in the water with only a handful of local surfers.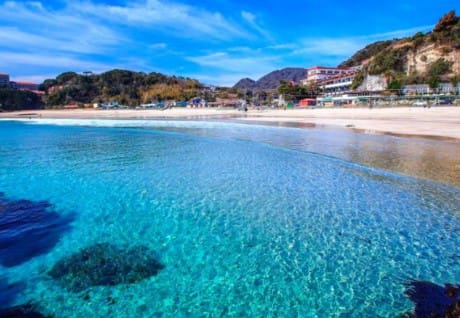 When the city gets to be too much or you have visited about as many shrines and temples as you can manage why not hit the beach.
Check Mount Fuji Travel to find and book activities in Izu.
Enjoy kayaking and snorkeling in beautiful Sotoura Bay. 
Suzaki Peninsula diving (2.5 hours)
Kujipama Beach is a treasure of sea creatures.