Introduction to Hiking in Izu
The natural geology of Izu means it is perfect for hiking – there are many routes and levels to choose from that suit all fitness levels.
Izu has no shortage of variety when it comes to trails – coastal, forest, and mountain routes available – and hiking is a great way to see the UNESCO Global GeoPark.
SOME OF THE MOST FAMOUS ONSEN IN IZU
Hiking trails in the Izu Peninsula generally separate into 2 categories – 
1. Mountain trails with abundant nature, waterfalls, rivers, and wasabi fields.
2. Coastal trails with stunning coastline, ocean views, and sunsets.
On a clear day on many of the hikes in Izu (both mountain and coastal hikes on the West Coast), you will be rewarded for your efforts with views of Mt Fuji.
Matsuzaki is a remote sea-side town with a rich history & exciting outdoor activities.
Ito City is a popular destination with an array of activities and attractions for all ages.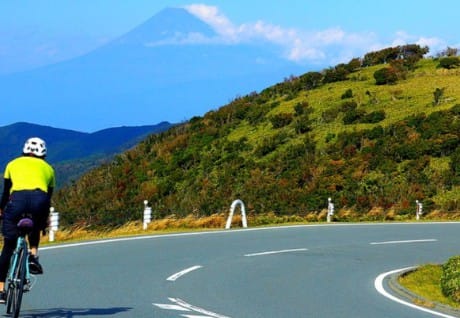 Izu is quickly becoming Japan's premier destination for cycling enthusiasts.
The Izu coastline is steep rugged, and breathtaking on both coasts.
JOGASAKI TRAIL (ITO CITY)
The Jogasaki Kaigan Trail (9km) on Izu's East Coast is accessible from Jogasaki Kaigan Station on the Izukyu Railway line.
It is a well-developed trail and suitable for all levels, with options to do the full 9km or in shorter sections.
This hike is arguably the best place to go to appreciate the geological marvel that is the Izu Peninsula with a jagged coastline over 20 meters in some places stretching out as far as the eye can see.
NANADARU TRAIL (KAWAZU)
Further down the east coast, the Kawazu Seven Trail is a mellow hike through the trees taking in all seven waterfalls that it is named after.
The last waterfall is the impressive Odaru Waterfall which also has a number of outdoor hot springs available to visitors (fees apply).
The pools are mixed and swimwear is needed - bring your own or rent some from Amagisou Ryokan at the top entrance (see the links for more details).
MT AMAGI (IZU CITY)
Mt. Amagi has multiple peaks and is considered to have some of the best hiking in the Izu Peninsula. 
With easy access from the parking area, this is a popular spot for day hikers with two routes - Shakunage Route (7.8 km) and Amagi Juso Route (15 km)
From Izu in the East to the foothills of the Japanese Minami Alps in the West there are many great hikes in Shizuoka.
Check Mount Fuji Travel to find and book activities in Izu.
A half-day canyoning tour at the top of the Izu Peninsula.
Joren Waterfall & Taro-Sugi
Explore waterfalls and rivers in Izu City.