Explore the Izu Coastline
With about 50km of coastline, Izu Peninsula offers a variety of unique coastal landscapes that have formed over millions of years of volcanic activity.
In 2018 the Izu Geopark was designated as a UNESCO Global Geopark.
Popular Coastline Destinations in Izu
The coastline running around the Izu Peninsula, starting at Atami in the East and continuing all the way around to Numazu in the West, offers stunning, unique, and rugged coastal terrain.
From different vantage points along Izu's coastline, there is a range of breathtaking views whether it is the Pacific Ocean crashing into the steep jagged coastline on the East Coast or the views of Mt Fuji over the Suruga Bay at sunset on the West Coast.
Nishi Izu is a quiet coastal town famous for its stunning sunsets and spectacular coastline.
Matsuzaki is a remote sea-side town with a rich history & exciting outdoor activities.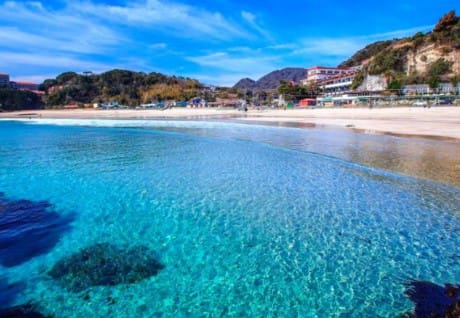 Izu boasts some of the best white sand and surf beaches in Japan.
The great outdoors awaits – Izu has a wide array of amazing hiking options for all levels.
IZU'S EAST COAST
Due to the easy accessibility of the East Coast of Izu, using Izukyu and JR Trains, it is not surprising that this coast is the more popular, and as a result it is also the more populated of the two Izu coastlines.
The East Coast is perhaps best characterized as a mix of rugged inaccessible coastline with high jagged rocks climbing high out of the Ocean set between small coastal fishing towns that have become popular hot spring destinations.
The Eastern coastline around Ito City & Jogasaki offers a variety of well-developed hiking trails that give visitors a perspective of how the Peninsula was formed through dramatic volcanic activity thousands of years ago.
With its subtropical climate, the developed coastline around Shimoda is famous for natural onsen and easily accessible white sand beaches.  
IZU'S WEST COAST
The West Coast of the Izu Peninsula is less dramatic but no less impressive than the East.
Starting with the white sand beaches and hidden coves of Minami Izu the West Coast is a winding coastline with high undulating hills and coastal fishing towns like Matsuzaki and Nishi Izu dotted along the way.
With unspoiled views of Mt. Fuji and unique volcanic features, the West Coast of the Izu Peninsula offers a more untouched experience for travelers and a chance to really explore.
Just a short journey South of Mishima Station, the West Coast of Izu offers intrepid travelers a chance to get off the beaten track.
Check Mount Fuji Travel to find and book activities in Izu.
Enjoy kayaking and snorkeling in beautiful Sotoura Bay. 
The Izukyu-line is a sightseeing route running along the East Coast of the magnificent Izu Peninsula.