The beaches in Izu are popular with both water sports enthusiasts as well as those looking for a relaxing seaside break.
In the Summer months, due to its proximity to the city, people from all around Tokyo flock to Izu to escape the humid heat of the city.
Popular Beach Destinations in Izu
With around 50km of coastline, Izu Peninsula boasts a number of beautiful beaches famous for pristine white sands and clear waters perfect for swimming and snorkeling with family and friends.
Izu has a selection of beaches with calm waters perfect for families, secret beaches to explore, and beaches that are often blessed with good waves for those looking to enjoy other water activities such as surfing.
Shimoda is a historic and picturesque port town with some of the best beaches in Japan.
Beautiful beaches, great seafood & marine sports make Minami Izu an exceptional destination.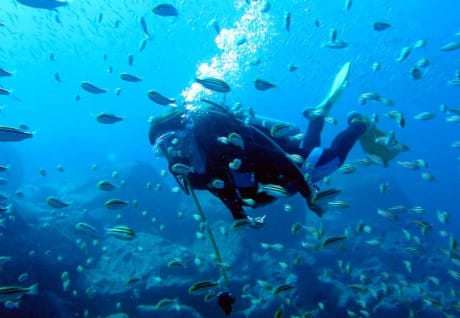 In on or under the water there are plenty of chances to get wet and have fun in Izu.
The Izu coastline is steep rugged, and breathtaking on both coasts,
SHIMODA
Shirahama Beach is one of the most popular beaches in Izu with its clear waters and white sand beaches.  Perfect for families wanting to enjoy activities like swimming. 
Imaihama beach is close to the train station and local accommodation and is known as a good beach for intermediate and above surfers. 
ATAMI
Atami Sun Beach is a favorite with visitors to the Izu Peninsula from Tokyo. 
A beach lined with palm trees, it's a popular spot to watch the sunrise or the illuminations.
During the Summer Atami is famous for its regular fireworks displays and Atami Sun Beach offers great close-up views.
MINAMI IZU
Yumigahama Beach is a long white sand beach with relatively calm waters making it perfect for families enjoying a day at the beach and also snorkeling, SUP, and sea kayaking.
Hirizo Beach is only accessible by boat and is a small sandy cove surrounded by pristine clear blue waters that make it a popular Summer destination.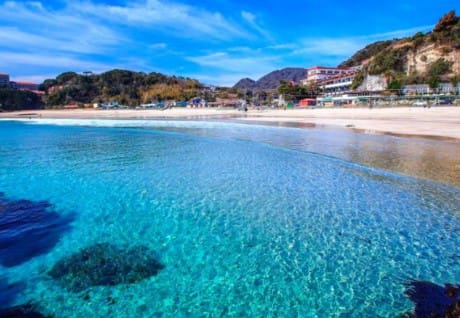 When the city gets to be too much or you have visited about as many shrines and temples as you can manage why not hit the beach.
Check Mount Fuji Travel to find and book activities in Izu.
Our lessons are careful and safety-minded. Even first-day surfers can enjoy, free from anxiety.
Enjoy kayaking and snorkeling in beautiful Sotoura Bay.