Ryokan are a traditional style Japanese Inn, some of which have been operating for more than 100 years.
A Ryokan provides rooms with tatami mats and sliding paper doors with futon style beds on the floor, indoor and, often, outdoor hot springs and a multi-course Japanese meal.  
Ryokan are a popular type of accommodation throughout Japan that are famous for their exemplary hospitality and attention to detail to ensure visitors feel completely relaxed and rested – a concept that is known as 'Omotenashi' service.
Some Popular Ryokan Destinations in Izu
A good way to think of Ryokan is as a place to experience an exceptional full-course Japanese 'Kaiseki' meal at a restaurant where guests are able to spend the night and soak away their worries in a healing hot spring.
It is a slightly different concept to that of a traditional Western hotel and for many first time visitors it can be a little bit difficult to fully understand – it may take a few visits to truly understand how much of an outstanding experience it is.
Izu City is ideal for visitors who want to experience the best Izu has to offer in one place.
Ito City is a popular destination with an array of activities and attractions for all ages.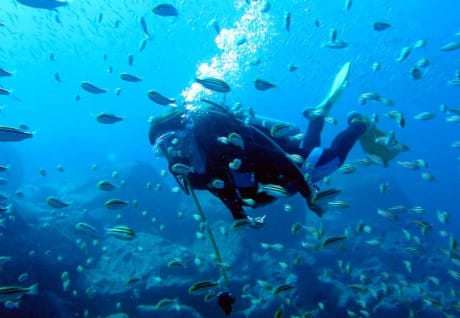 In on or under the water there are plenty of chances to get wet and have fun in Izu.
The Izu coastline is steep rugged, and breathtaking on both coasts.
MEALS - JAPANESE KAISEKI
Typically Ryokan offers kaiseki ryori (a traditional Japanese multi-course meal) with hot green tea. 
The course will present a selection of food from the surrounding region. 
At most Japanese ryokan a night's stay will include 2 meals - dinner is typically a traditional Japanese multi-course meal normally made up of 9 courses that is prepared by the chef from local, seasonal ingredients.
ROOMS - TATAMI & SHOJI
Ryokan in Japan generally provides a room with tatami flooring and a futon mattress - for some visitors to Japan sleeping on the floor may be a new experience.  
Traditional ryokan rooms also normally include Japanese paper shoji sliding doors and a small table with cushions where you can enjoy traditional green tea.  
ONSEN - HOT SPRING
Ryokan rooms will not typically have a shower or a bath as the whole experience centers around the onsen hot spring located on the premises. 
After you enjoy a relaxing onsen bath you can lounge in the large, open communal space in the traditional Japanese Yukata provided and enjoy a refreshment. 
Wherever you choose to stay there will be a male and female onsen available. 
In some cases, the Ryokan will rotate the onsen hours of use for males and females.
Spotlight - Shuzenji Onsen
Check Explore Shizuoka to find more articles and information on Shuzenji Onsen.