Minshuku are the equivalent of a Bed & Breakfast and have a feel similar to a ryokan, but are normally smaller and family-run so have a more homey feel to them.
Often found in smaller towns and villages, especially in the southern fishing communities of Izu, they offer Japanese-style rooms. 
A stay at a minshuku is a fantastic opportunity to be hands-on with the culture and get to know other travelers and guests.
Some Popular Minshuku Areas in Izu
Minshuku typically only have a few guest rooms giving them a cozy and intimate atmosphere.    
Typically a stay at a Minshuku will include two homemade meals, dinner and breakfast.  The meals are traditional Japanese style and use local, fresh seasonal ingredients.
The garden city of Mishima is blessed with fresh Mt Fuji spring water flowing through its streets.
Located at the foot of Mt Fuji, Numazu is the gateway to Izu's stunning West Coast.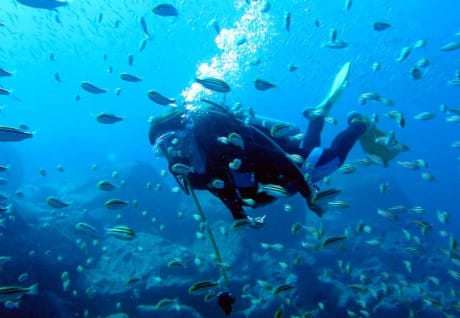 In on or under the water there are plenty of chances to get wet and have fun in Izu.
The Izu coastline is steep rugged, and breathtaking on both coasts.
Minshuku
Japanese Minshuku have a 'home stay' or Bed & Breakfast feel to them - with a very Japanese twist - and offer an opportunity for visitors to experience what a  traditional style Japanese home is like.  
At a Japanese Minshuku you are more than likely to sleep on a futon mattress on the traditional tatami flooring.
Dinner and breakfast are usually included and especially on the Izu Peninsula you can expect that this will most likely consist of seafood and rice.
Minshuku meals are not as intricate as you will find at a traditional Japanese Ryokan but have a more home-cooked feel and the quantities are still quite large.
Minshuku will have a shared shower and bathroom for guests. 
The owners will often assign times to bathe for each guest so there is no crossover between guests.
The correct way to wash in these bathrooms is to shower and wash thoroughly with soap and shampoo first before relaxing in the hot, clean bathwater.  
Check Explore Shizuoka to find more articles and information on Minshuku in Shizuoka.
Check Mount Fuji Travel to find and book activities in Atami Onsen.