Introduction to Camping & Glamping IZu
Camping in Izu is a great way to save your travel budget and see things from a more hands-on perspective.  
Campsites offer the basic facilities needed to enjoy a night out under the stars including cleaning facilities, communal BBQ areas, and food preparation areas. 
For those looking for a more comfortable connection to nature, glamping experiences are available in the Izu Peninsula too.
Some Popular Campsites in Izu
Izu Peninsula has favourable weather for camping and two of the best seasons to go are the spring and autumn months.
There are many campsites all over the peninsula and in particular around the coast to the south-east, south and south-west.
Izu City is ideal for visitors who want to experience the best Izu has to offer in one place.
Ito City is a popular destination with an array of activities and attractions for all ages.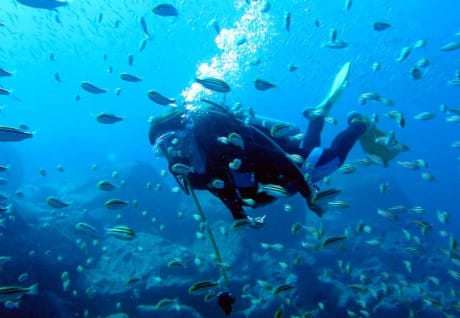 In on or under the water there are plenty of chances to get wet and have fun in Izu.
The Izu coastline is steep rugged, and breathtaking on both coasts.
Camping
Camping is a, perhaps surprisingly popular pastime in Japan.
Especially during the hotter Summer months and school holidays in July / August, many families pack up their car and head to the beach or into the mountains to enjoy family time in the Great Outdoors.
Many campsites offer more than just the basic facilities you would expect such as coin laundry and hot shower facilities.
Some campgrounds offer rental tents or have basic cabins with beds also available.
There are a number of 'Auto-Camps' set up to cater for those with campervans in Izu which provide dedicated spaces for your vehicle, an electric socket, and toilet/shower facilities - check the Rental Vehicles Page for more details.
Glamping
Glamping has become extremely popular recently in Japan and there are a few sites worth a visit in Izu Peninsula offering high-quality experiences.
Generally, at a glamping site, everything is catered for and visitors can enjoy a luxurious camping experience without any of the hassles of packing and unpacking their camping equipment.
Check Explore Shizuoka to find more articles and information on Shizuoka.
Check Mount Fuji Travel to find and book activities in Shizuoka.
CAMPING & GLAMPING VIDEOS