Located in the south of the Izu Peninsula is the historic seaside town of Shimoda with its surrounding white sand beaches.  
Shimoda is famous as the landing place of American Commodore Perry's 'Black Ships' in 1853 which is regarded as the start of diplomatic relations between Japan and the USA. 
A good place to start sightseeing in Shimoda is Perry Road which follows a canal with picturesque bridges and is full of craft stores, cafes, bars, and restaurants.  
At the end of Perry Road, you will find Ryosenji Temple which has a great little museum with a collection of paintings, maps, and other artifacts related to the landing of the Black Ships.
Shimoda is home to some wonderful beaches, hot springs, and a floating aquarium where you can snorkel with dolphins making it popular with both families and outdoor enthusiasts.
Visit Kawazu for World famous cherry blossoms stay for the hospitality, nature, hot springs, and seafood
Beautiful beaches, great seafood & marine sports make Minami Izu an exceptional destination.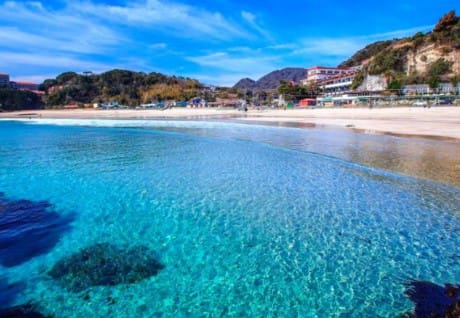 Izu boasts some of the best white sand and surf beaches in Japan.
Izu has played an important role in Japan's history the remnants of which still remain today.
At the Southern tip of Izu Peninsula is the historic beach town of Shimoda a gateway to explore Southern Izu.
Check Mount Fuji Travel to find and book activities in Shimoda.
Our lessons are careful and safety-minded. Even first-day surfers can enjoy, free from anxiety.
Enjoy kayaking in beautiful Sotoura Bay. Beyond the white beach is an archipelago where you can have fun snorkeling.
Take a tour through shimoda