Nestled below Mt Fuji and on the coast of Suruga Bay, Numazu is easily accessible from Tokyo.   
Known for its maritime climate with hot summers and mild winters Numazu is a popular destination for those who love the outdoors. 
From Numazu, visitors have access to Izu's stunning West Coast – beautiful beaches, coastline, and other scenic spots, many with great views of Mt Fuji.
Numazu City is famous for its bustling fish market and the seafood restaurants and bars that offer visitors a warm and welcoming atmosphere and opportunity to meet the local people.
The coastline down to Heda Port is beautiful and a popular route for cycling enthusiasts.
Considered to be one of the most scenic areas along the Old Tokaido Road, Senbonhama Beach and Park offer stunning views of the pine grove, Suruga Bay and Mt. Fuji.
The garden city of Mishima is blessed with fresh Mt Fuji spring water flowing through its streets.
Izunokuni is a town with a proud history that is full of surprises, and a mecca for cyclists.
Fresh seafood, wasabi, and local produce ensure outstanding culinary experiences.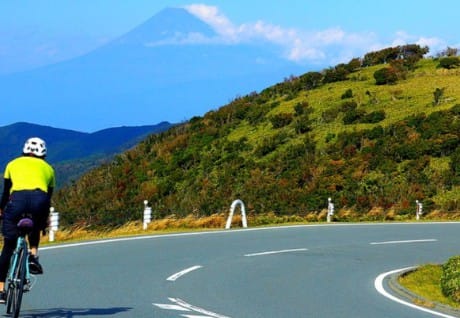 Izu is quickly becoming Japan's premier destination for cycling enthusiasts.
Flanked on one side by the Majestic Mount Fuji and Japan's deepest Bay (Suruga Bay) on the other is the city of Numazu.
Check Mount Fuji Travel to find and book activities around Numazu
For visitors that want to explore Izu Peninsula the Izu Dream Pass is literally a dream come true.
Shrine Visit & Sake Tasting
A local Izakaya (Japanese pub) master will guide you to a local shrine & an Izakaya experience.