Introduction to Minami Izu
Located at the southern tip of the Izu Peninsula, Minami Izu enjoys a sub-tropical climate with stunning views along the coastline and pristine beaches.  
Known for water sports and hot springs this is the perfect place for those who love the outdoors.  
Minami Izu is also known for its fresh seafood which comes directly off the fishing boats – particularly famous for Spiny Lobster, long-legged crab, abalone & sea snail.
A popular destination for sea kayaking, fishing, and other activities on, in, and under the water in Minami Izu experienced divers can dive with hammerhead sharks at Mikimoto Island.
Follow the Southern coastline and visit Yumigahama Beach, Cape Irozaki Lighthouse and Iro Shrine, Hirizo Beach and Hagachizaki Monkey Bay, and some of the many fishing villages in between, for a great day of exploring.
Shimoda is a historic and picturesque port town with some of the best beaches in Japan.
Matsuzaki is a remote sea-side town with a rich history & exciting outdoor activities.
Fresh seafood, wasabi, and local produce ensure outstanding culinary experiences.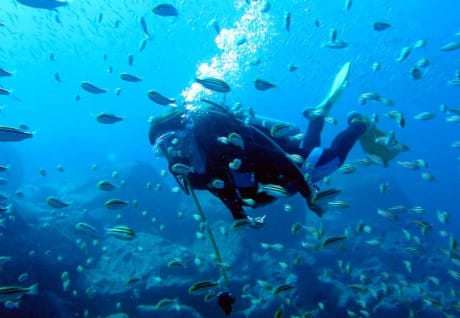 In on or under the water there are plenty of chances to get wet and have fun in Izu.
At the Southern tip of Izu Peninsula is the historic beach town of Shimoda which is a gateway to explore Minami Izu.
Check Mount Fuji Travel to find and book activities in Minami Izu.
Off the coast fishing experience on the HyosukeMura fishing boat.
Suzaki Peninsula diving at Kujipama Beach is a treasure of sea creatures.