Introduction to Izunokuni
Izunokuni is in the northern part of Izu Peninsula just a few minutes from Mishima on the Izu Hakone train line.
Izunokuni has a long and storied history and, over the centuries, has been a strategic location for many powerful Japanese Samurai – at first glance not much of this history remains today but dig a bit deeper and you will find a fascinating backstory.
Izunokuni is known for its Mt Fuji views, geisha school, delicious strawberries, and, in recent years, as a cycling and hiking destination.
Blessed with hot spring waters the Izunokuni area in its heyday was a thriving onsen destination.  
There are only 2 surviving Geisha schools in Japan – one in Izunokuni and the other in Kyoto meaning you can get a once-in-a-lifetime authentic Geisha experience in Izunokuni.
For those looking to explore the history of Izunokuni, Nirayama Cannon Smelting facility Nirayama reverberatory furnaces and Ganjojuin Temple are popular sites.
Izu City is ideal for visitors who want to experience the best Izu has to offer in one place.
The garden city of Mishima is blessed with fresh Mt Fuji spring water flowing through its streets.
Fresh seafood, wasabi, and local produce ensure outstanding culinary experiences.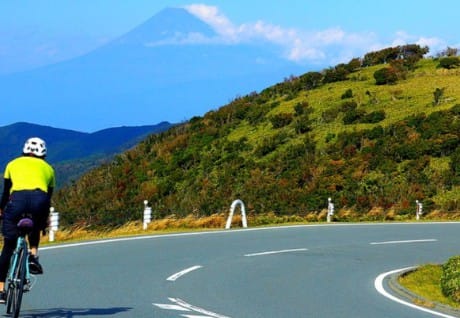 Izu is quickly becoming Japan's premier destination for cycling enthusiasts.
A World Heritage Site, Authentic Geisha school, World-class bike rental facility, easy day hikes and soothing hot springs, a gondola ride with views of Mt Fuji and a craft beer brewery – Izunokuni is full of surprises.
Check Mount Fuji Travel to find and book activities in Izunokuni.
After 1 hour hike to the top of Mt-Jyo-yama for vies of Mt Fuji – descend 130m cliff by rappelling.
Visit an authentic Onsen town, Izunagaoka for your special experience witha their time-honored Geisha.