Situated on the north-east coast of the Izu Peninsula, Ito City is only 90 minutes from Tokyo.  The area has primarily two tourist destinations – the hot spring area around Ito Station and the stretch from Kawana Station to Izu Kogen Station to the south.Ito City's popularity and broad appeal can be attributed to a combination of great ryokan experiences, great restaurants, stunning nature, and an abundance of attractions & activities.
Jogasaki Coast has a beautiful hiking trail with a suspension bridge and lighthouse -the trail is about 10km in length but there are shorter walks available making it accessible for all levels.
Take a chairlift to the top of Mt. Omura – an extinct volcano that affords panoramic views of Mt. Fuji and Oshima Island – it takes about 15 minutes to walk around the crater and you can try your hand at archery in the caldera.
Atami is a seaside hot spring resort town less than 45 minutes from Tokyo.
Higashi Izu is a family-friendly seaside hot spring town that enjoys life at a slower pace.
Fresh seafood, wasabi, and local produce ensure outstanding culinary experiences.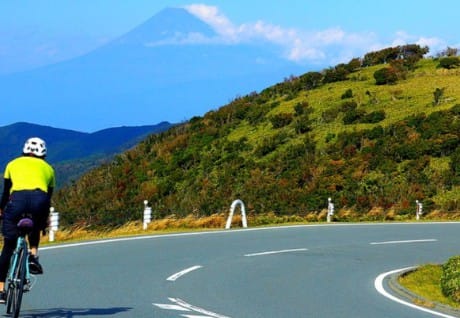 Izu is quickly becoming Japan's premier destination for cycling enthusiasts.
Stretching out along Izu Peninsula's rugged East Coast, Ito City is famous for its abundant nature, stunning coastlines and onsen bathing Capybara.
Check Mount Fuji Travel to find and book activities in Atami Onsen.
Combine a guided walk around the crater of Mt Omuro and hike along the Jogasaki Coast with a knowledgeable guide on this informative tour.
Ride the chairlift to the top of Mt Omuro and enjoy a guided tour of this charming dormant volcano.